Tut: Selectively Blur a Background {GIMP}
posted by davyboy79
, Jul 30, 2006 1:24 AM — 38 comments
Sometimes the background to a photograph distracts from the subject itself. One of the tools in our arsenal is the ability to blur it out. This tutorial for GIMP will show you how to perform a basic blurring, whilst leaving the subject intact.
Original: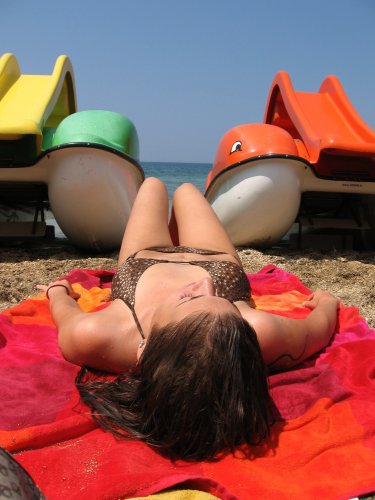 on the beach 2
by
lusi
Result: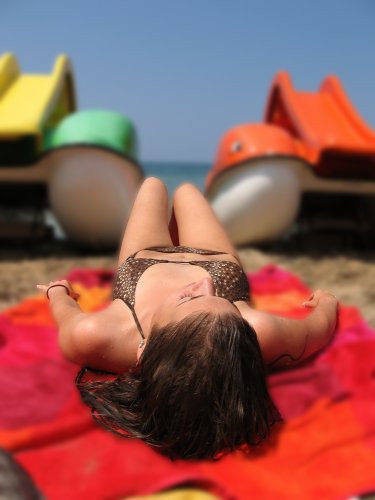 Method:
As we can see from the original picture, the pedalo boats in the background are somewhat of a distraction from the subject, so we are going to blur them out, leaving the subject intact. The first stage in most image processing steps is to duplicate the layer, and work on that. In GIMP to bring up the layers dialog, you will need to use the menu or
CTRL-L
.
Right mouse button on the image in the layer, and choose Duplicate Layer: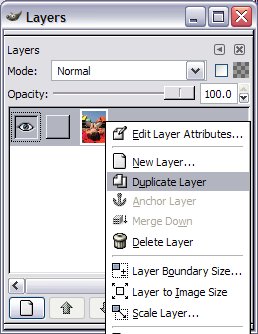 The resulting should be two identical layers in the Layers window, and the newly created layer being selected (highlighted). Now we need to apply the background blurring. I am choosing to use a Gaussian Blur, as it provides a long range of blurring, which on a large digital photograph becomes necessary. To find the blur, look under the Filter Menu->Blur->Gaussian Blur: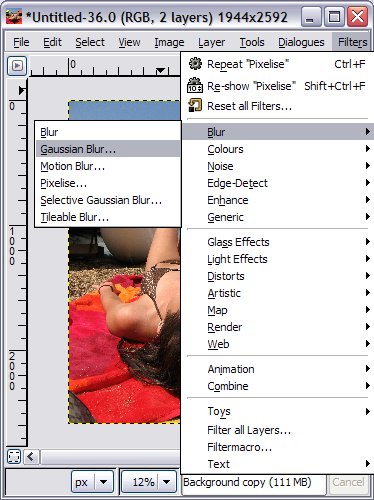 I will chose a 40px radius because of the resolution of the image, and the level of blurring desired. Change this to suit your resolution and desire. Then hit OK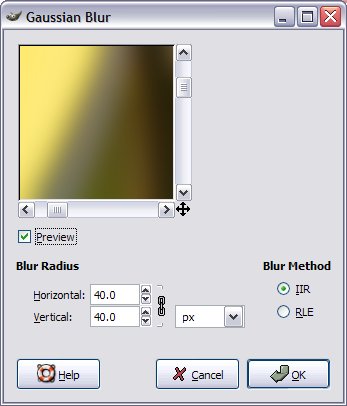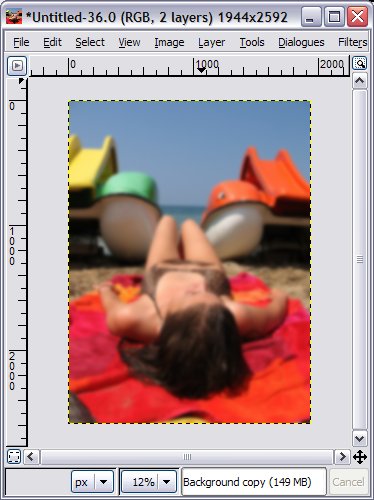 So now our image looks awefully blurry, including the subject, this is where the magic comes in. We now need to add a mask to the blurred layer. This will tell GIMP what areas of the blurred picture should be overwritten over the non blurred picture. We want to create a White Mask. This white mask says that the second layer should cover the first. Where the mask becomes blacker, less of the second layer should shine through: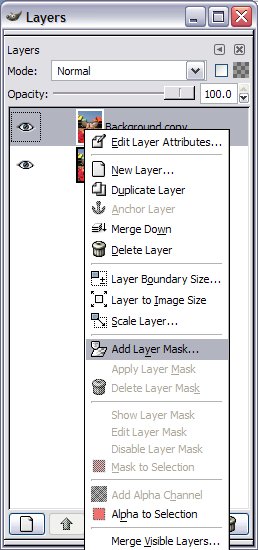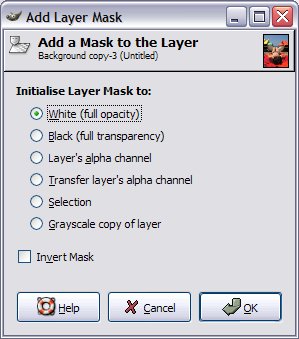 Make sure that you are editing the Layer Mask on the second layer. One trick to make things easier to see is to drop the opacity to 70-80%. This will make the image seem mostly OK, but a bit fuzzy, and we can use this to see where the edges of the subject are, and where the background is. This way we can avoid going over boundaries.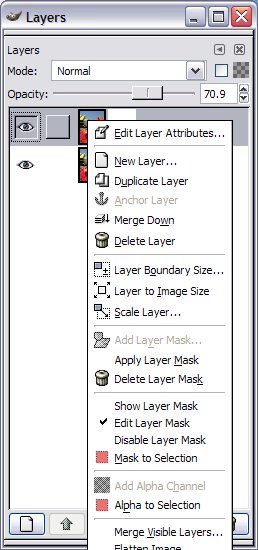 Next, we must choose a black colour, the Soft Edge Painter (the one that looks like a paint brush) and a soft edge brush. I cannot stress the need for a soft edged brush enough. This will let you go slightly over and under the boundaries and not make "too" much of a difference. Once you have the brush, simply paint over the subject, being careful around the edges. You will see the detail of the first layer "paint through" as you draw. Once you have finished painting your subject, bring the opacity on the layer back up to 100% and admire your handywork!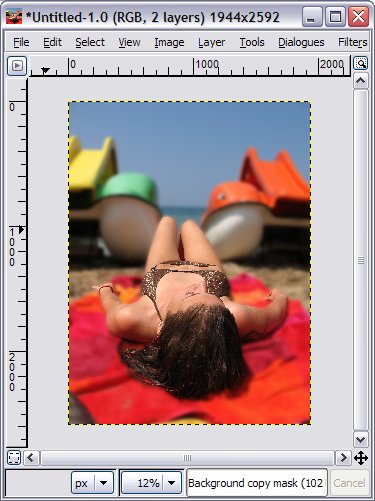 Now of course you don't just have to use Gaussian Blur :-)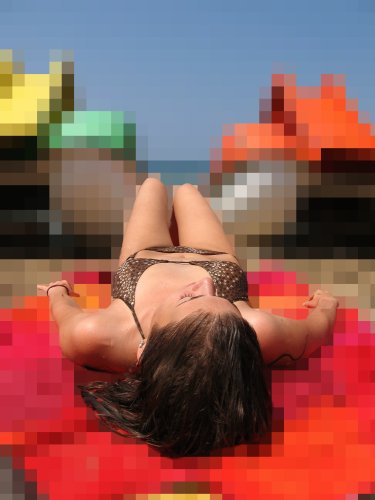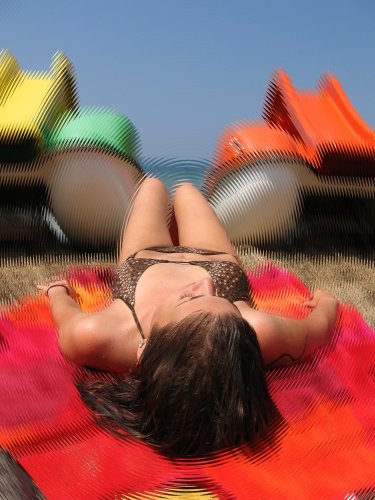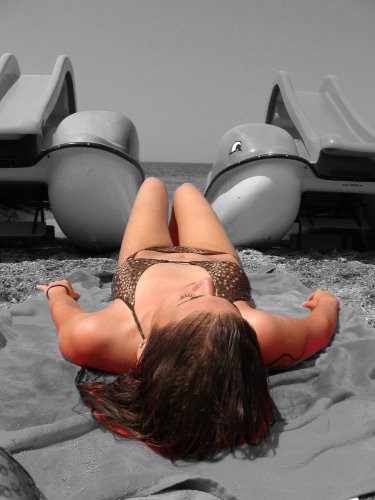 Edit: Converted images to jpeg to reduce overall size, as my hosting creeked out 15Gigs!
Comments

|

RSS
1.
posted by santianico
, Jul 31, 2006 5:31 PM
exellent
santianico
2.
posted by jfnyaga
, Aug 3, 2006 8:00 PM
Wow, Thanks

3.
posted by ppd
, Aug 7, 2006 3:38 PM
Bad

4.
posted by Rabbidog
, Aug 8, 2006 12:54 AM
Why dplicate the layer? Why not just se a layer mask?
5.
posted by CronicX
, Aug 14, 2006 8:18 PM
Very helpful for begginers (like me)
6.
posted by davyboy79
, Aug 20, 2006 11:51 PM
Rabbidog, I duplicate the layer for a couple of reasons. 1) you need 2 layers, 1 with the original in focus, and the second with the modifications you've made, thus, when you layer mask, you'll see through to the original, and 2) because working on a duplicate means that you can always undo back to the original quickly with a quick delete and duplicate of layers.
7.
posted by davyboy79
, Aug 20, 2006 11:51 PM
ppd, thanks. Each to there own opinion, and everybodies opinion is welcomed!
8.
posted by aldore
, Aug 21, 2006 11:52 AM
GOOD Work!!

9.
posted by VijayDave
, Aug 24, 2006 5:14 AM
Wounderful body! by this way you have a great control on the focused picture as well as your work flow - if you can make a mistake you can easily correct it.
Well, for the blurring a background, I apply the principal of the lence. You have to blue the detail as a lence do. Keep your point of interest in focus and go through different appartures; put on the the depth-of-field button and you will find that at different apparture, the blurr of the foreground and background is different.
Well, if you keep in mind the same principal of the lence for the depth-of-field; the correction with the software will be more realistic!
Select the different area of foreground and background during the process and blurr them with the different degree or let me say as a lence on camera blurr at open aparture! You may use the blurr button on the photoshop tool bar if you have really small area to blurr!
I do not have that much time otherwise I can put such blurring in same image illustrated image.
You can see some example to my web-site (http://PixelToPixel.com)
to this links :
http://www.pixeltopixel.com/ToPutSelectiveItemInFo- cus.html



http://www.pixeltopixel.com/BluringBackgroundDetai- ls.html
10.
posted by VijayDave
, Aug 24, 2006 5:20 AM
sorry for some word mistakes in my writing; I really forget to correct them.

In short, I just want to make it clear that even with the software, do as a camera lence do to your resulting image. Then your correction with the software will be more photo-realistic improvement.
Thank!
11.
posted by anzella
, Aug 27, 2006 8:17 AM
loving it. but i cant quite work out how to do it for photoshop. its all very similar until you want to create the mask. would you know??

thanks!
12.
posted by johnbob22
, Aug 31, 2006 4:58 PM
in photoshop you use layer->add fusion mask->show all

or just click on the bottom of layer window looking like a half-filled circle.
13.
posted by ultraman56
, Sep 1, 2006 9:31 AM
photoshop would be easier and better
14.
posted by davyboy79
, Sep 3, 2006 8:03 PM
But more expensive! :-)
15.
posted by pyromania
, Sep 4, 2006 11:42 AM
Nice Trick
16.
posted by mojog
, Sep 15, 2006 6:28 PM
Yeah not a bad way to do this - but it seems quite lengthy?

i would have just used a feathered lasoo tool, to select the subject, inverted the selection and applied to blur.

Same effect with less steps.
17.
posted by saljo
, Sep 16, 2006 11:33 AM
which software n which version is used???
18.
posted by rooyevaar
, Sep 16, 2006 11:53 AM
Nice tip, but for this picture I would have gradiently blurred the ground so it would look like something you can acchieve with aperture too.

to mojoq: That is another way to do it, but you only get one shot. By doing the blur on a different layer, you can adjust and improve until you have the perfect result.
19.
posted by nilgraphic
, Sep 19, 2006 8:29 AM
Nice work.
20.
posted by donberryma
, Sep 22, 2006 9:42 PM
cool, thanks for the tip.
21.
posted by davyboy79
, Sep 28, 2006 2:52 PM
Thx for the Front Page! My webspace creaked 15Gigs this month!
22.
posted by davyboy79
, Sep 28, 2006 2:54 PM
@Saljo, Gimp 2.2!
Also, was not trying for Depth of field effect so much as highlighting the common tool of layers to acheive the powerful and startling effects. I'll leave the real work up to those who know what they are talking about with Depth of Field etc...!

Thanks all!

23.
posted by efty
, Oct 9, 2006 10:59 PM
Very good tutorial for beginners indeed. 'grats!
24.
posted by zerogalaxy
, Oct 17, 2006 2:22 AM
Very useful thanks!
25.
posted by rech
, Oct 25, 2006 5:46 AM
very easy, tks
26.
posted by sadeep1972
, Nov 4, 2006 8:17 PM
nice but the final result couldhave been beteer
27.
posted by ZaNuDa
, Nov 6, 2006 12:21 PM
The blurring is good, of course, but why the horizon line is not horizontal? :)
28.
posted by davyboy79
, Apr 4, 2007 12:08 AM
I was merely showing one technique, that others can build into their repertoire. There is probably a few things I could have done with the image, but for the sake of brevity and sticking to the subject, I dealt only with the blurring of the background.

Besides, who's to say that the sea wasn't on a slant that day :-p
29.
posted by gokercy61
, Jun 4, 2007 12:03 AM
I loved the B/W one!
30.
posted by creazine
, Jul 10, 2007 10:43 PM
Good
31.
posted by dadas2525
, Aug 22, 2007 2:25 PM
sa?ol can?m
32.
posted by jouellette
, Oct 16, 2007 3:53 PM
The end result turned out so bad - in no way does this look realistic. Nice try, though.
33.
posted by jouellette
, Oct 16, 2007 3:54 PM
And to gokercy61, who liked the B&W one: you're an idiot.


Idiot.
34.
posted by morphine30
, Oct 18, 2007 2:44 PM
IT would be easier to use the eraser tool than to create a layer mask and the paintbrush...(well...For me it is...)
35.
posted by MistressKy
, Nov 10, 2007 12:09 PM
I agree with those of you who can't understand why you'd add more steps to some action when the same could be done with the tools such as lasso or eraser.

You have to understand that there's a "class" difference, if you will, in graphic design. Once you reach a certain level of expertise you're expected to stop destroying images using tools that permanently alter images, and start using masks and layers to create the same effect.

As to the tutorial, it's a nice basic tutorial, but I'd have to agree with those who didn't like the final product, because I'd definitely make quite a few more adjustments after this blurring before I'd want to show it off. But taking the tutorial in the spirit it was given (showing people how to do one effect on a photo), I give you a thumbs up :)
36.
posted by polinilabs
, Nov 7, 2008 8:41 PM
Good
37.
posted by softener
, May 31, 2013 7:06 AM
very good and usable :)
38.
posted by inizjall
, Nov 6, 2013 3:27 AM
that was brief and helpful
You have to log in to add comments to this post.
Toolbox
freeimages blog archive
RSS feeds
All blog posts
Tutorial posts only
Contribute
»
Add your own post!
Top blog / tutorial posts